Here are all 22 burgers to try across Metro Vancouver during Le Burger Week
It's the largest burger celebration ever held in Canada - and there are 32 restaurants in Metro Vancouver taking part!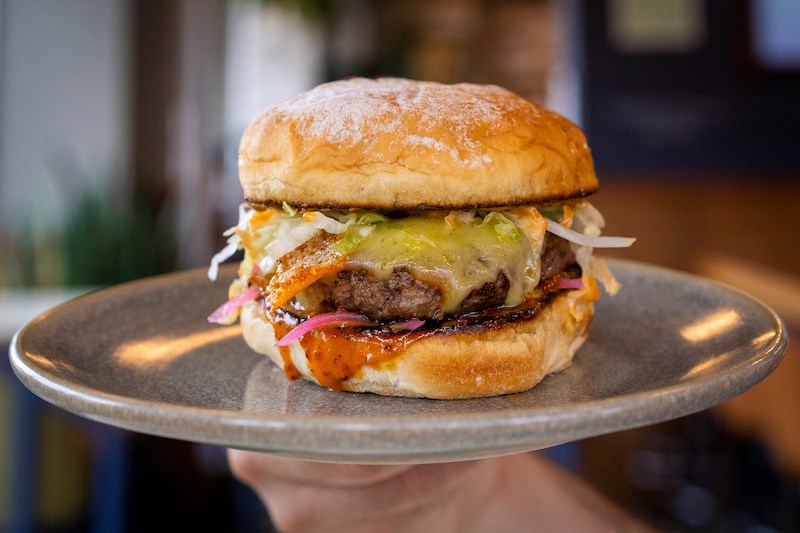 The Supreme is the Le Burger Week creation offered at Bells & Whistles' two Vancouver locations.
Griddled thin with crispy edges, thick and juicy and loaded with the works, or even made of only plants: Burgers are beloved in so many ways.
Now the country's week-long celebration of all things burger perfection has doubled: Le Burger Week will run for two weeks this time around, featuring burgers at restaurants across Metro Vancouver.
Typically held Sept. 1 through 7, the Quebec-based Le Burger Week 2021 will actually run the first two weeks of the month - until Sept. 14.
Organizers say they expect 1,000 restaurants across Canada will take part.
During those two delicious weeks, diners are encouraged to visit participating restaurants in their area, and order up the Le Burger Week item.
Several Metro Vancouver restaurants have signed up to have their burger creation included in Le Burger Week, and the fans can go eat them and vote for their favourites.

This year there are 22 burgers available at 32 venues in Metro Vancouver, with a few other options elsewhere in the province - namely in Squamish and in the Okanagan.
Here are the Metro Vancouver restaurants participating in Le Burger Week 2021 and their burger creations:
Launched nearly a decade ago in Montreal, the annual event has brought burger lovers together in numerous Canadian cities since 2017, when the fest expanded to include Quebec City, Cornwall, Toronto, Ottawa, Winnipeg, Calgary, Edmonton, Regina, Saskatoon and, Vancouver.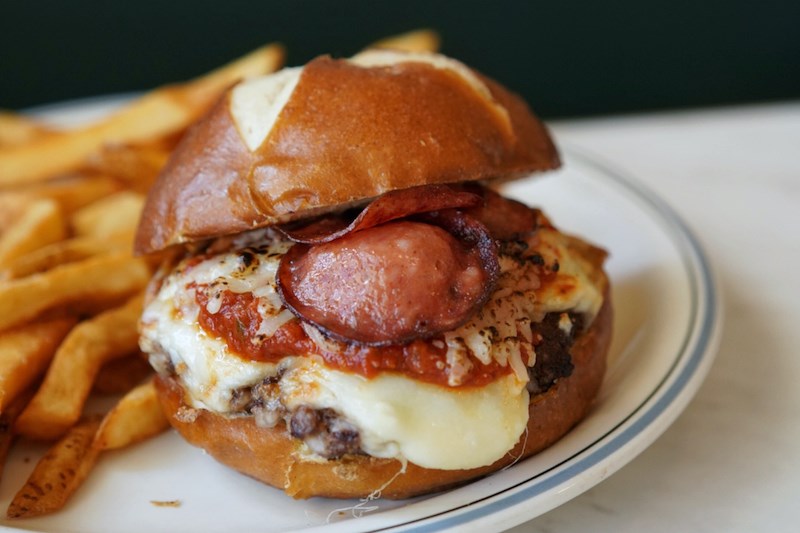 The Pizza Burger from Fable Diner in Vancouver. By Photo courtesy Le Burger Week
Le Burger Week's overall mission has always been to support local restaurants by increasing their sales and awareness through festival participation, explain organizers.
"To be able to grow on this mission and continue to help restaurant communities for 10 years now in some markets is a dream come true! Let's celebrate something inclusive, fun and delicious together all while supporting local restaurant communities across Canada!" urges Le Burger Week co-founder Na'eem Adams.
This year, Burger Week will again be supporting Anorexia and Bulimia Québec (ANEB), a Quebec-based organization that aims to fight and destigmatize eating disorders and, United Way Canada, a national non-profit organization that works to raise funds and invest in improving lives in local communities. Through Le Burger Week, a percentage of every burger sold at a participating restaurant will be donated back to these organizations.